Thank you for visiting the Community Engagement page. This page will be updated with ongoing community engagement activities.
Community Engagement Activity
Town Council has sought feedback from the public in the form of a Slogan Search! The survey is now closed to new responses. Council has reviewed the collected feedback and has identified 5 slogans that they will seek additional feedback from the community in the near future. After the feedback has been received, your Council will take these additional responses under consideration and then finalize their selection for the Community Slogan. 
Council would like to specifically thank the Community Engagement Committee for their efforts as well as all those from the public who have participated in helping the Town select a new slogan to accompany our new branding logo.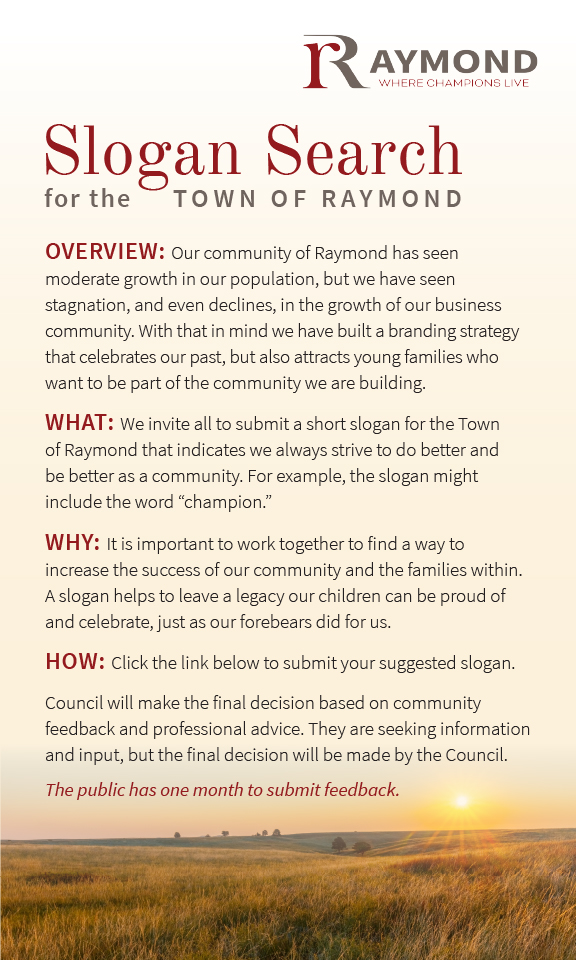 Please do not hesitate to contact the Town office at contact@raymond.ca or at 403-752-3322 with any questions.
Contact Us
  Box 629                                                                                    210 N 200 W                                                      Raymond, Alberta T0K 2S0                                        Ph: 403-752-3322                                                        Fax: 403-752-4379
Stay Connected
Register with us to receive updates on local news and events from Town of Raymond, Alberta